The lovable Care Bears and their kindhearted cousins return for more adventures in the magical land of Care-a-Lot in CARE BEARS & COUSINS: BFFS – VOLUME 2, arriving on DVD and Digital HD, Tuesday,  March 7!
To celebrate we have these fun free printables: Care Bear Coloring Page, Word Search Puzzle and Tic Tac Toe game you can all enjoy together. Remember coloring isn't just for kids anymore!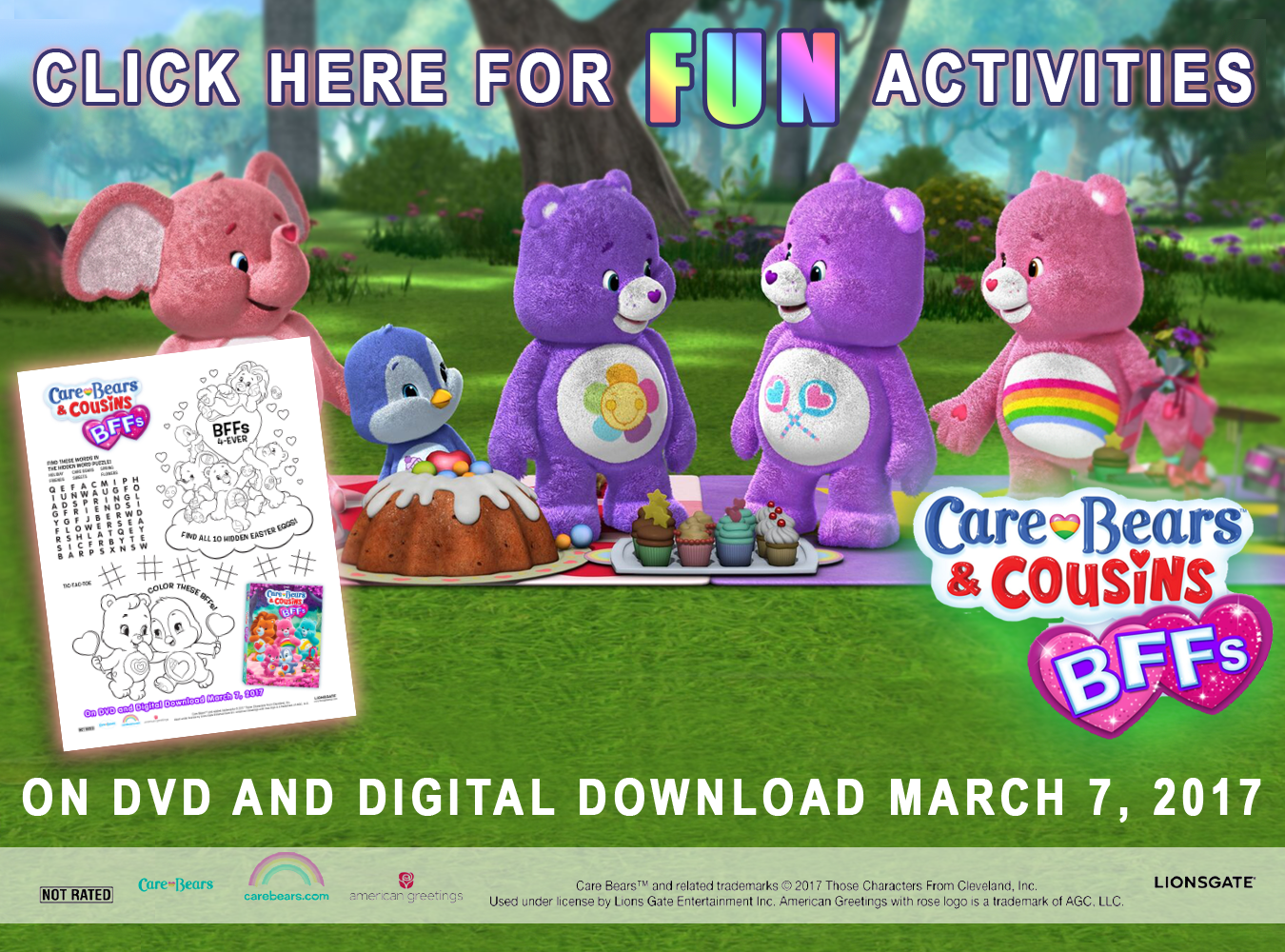 Join the Care Bears in Care-a-Lot where friendship is in full bloom! The Care Bears and their Cousins discover that best friends are forever in these sweet and smile-raising adventures. Whether they're trying to help Brave Heart have the awesomest day ever, caring for an injured Grumpy or learning valuable lessons about jealousy and the importance of keeping promises, the Care Bears and their Cousins fill every moment with caring, sharing and fun!
Three Ways to Use Your Free Printables
Create a movie play date with friends and family. Print, color and play games.
Friendship is in full bloom this spring with the Care Bears.  Color the coloring sheet then start your flowering sprouts based on the flowers you have created in the coloring page. Head to the store, use an egg carton and start your flowers to be replanted in the flower beds. Add a lesson on photosynthesis to the fun as you learn how about the life cycle of plants.
Life lessons from the stories: Find real life adventures based on the stories and let your care-a-lot learning and adventures begin. For example if the Care Bears are helping the "injured grumpy" find out if there is someone in your circle (or beyond) that you could help out a little bit with a meal or a visit.
Related Posts :