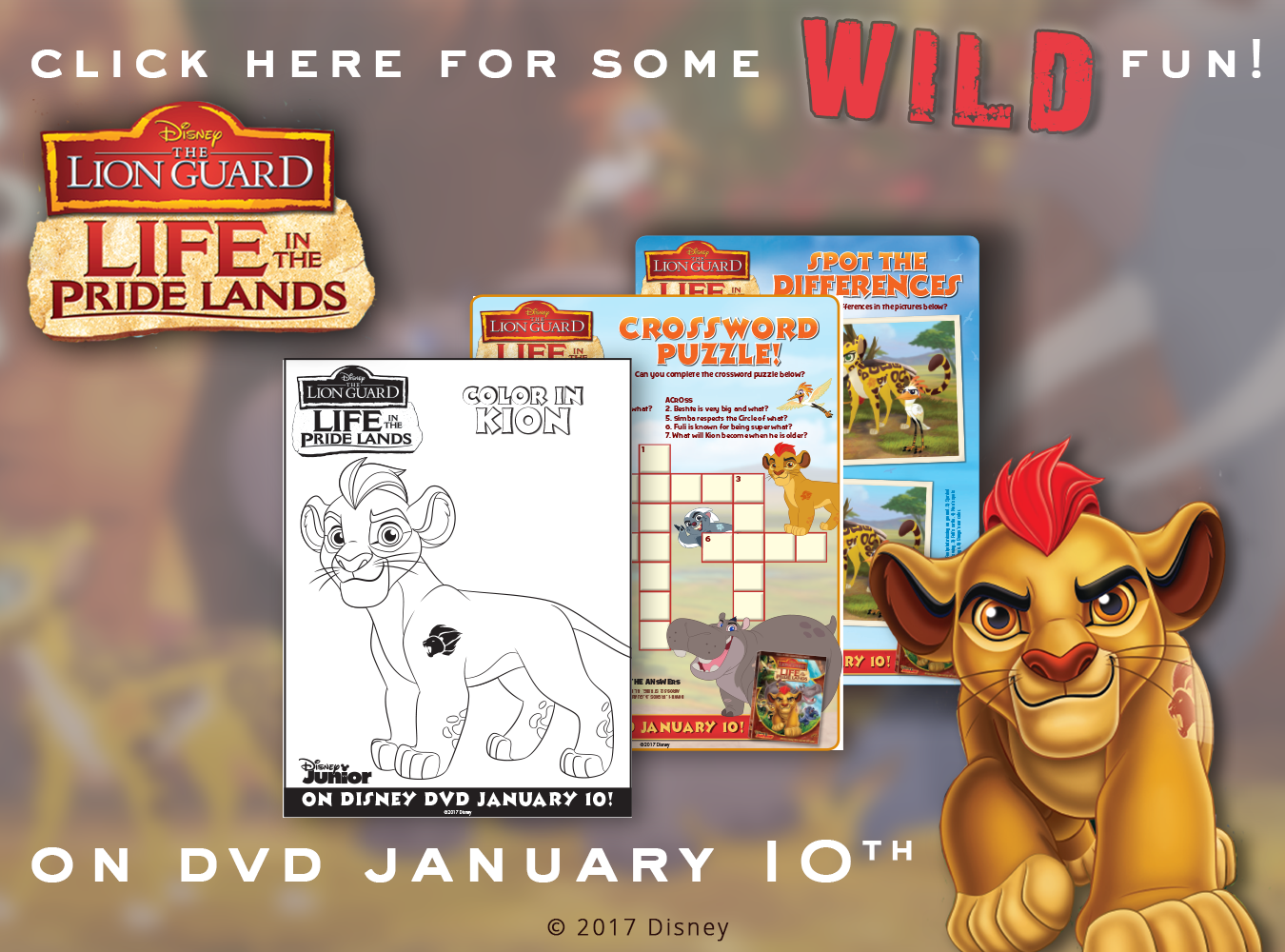 The Lion Guard adventures continue! My godson is wild about this animated show so I'm thrilled this week to be able to share with him these fun filled free printable activities for when he comes over as well The Lion Guard Life in the Pridelands NEW DVD! And with this voice cast I can understand some of his excitement!
Rob Lowe ("The Grinder") as Simba; Gabrielle Union ("Being Mary Jane") as Nala; Max Charles ("The Amazing Spider-Man 2") as Kion; Joshua Rush ("The Adventures of Puss in Boots") as Bunga; Atticus Shaffer ("The Middle") as Ono; Diamond White ("Sofia the First") as Fuli; and Dusan Brown ("Blaze and the Monster Machines") as Beshte. Many of the beloved characters from "The Lion King" reprise their roles, including Ernie Sabella as Pumbaa.
The Lion Guard continues with Simba and Nala's (from the classic The Lion King) second-born cub, Kion, and his Lion Guard team as they protect the Circle of Life! Follow our group of unlikely heroes: Bunga the honey badger, Fuli the cheetah, Beshte the hippo and Ono the egret. Join this heroic band as they use their unique abilities to protect the Pride Lands and maintain the Circle of Life. This series also features Simba, the spirit of Mufasa and the hilarious antics of Timon and Pumbaa. You'll go wild for all the ferocious fun, because whether the Lion Guard team is tracking a rogue leopard, foiling tricky jackals or facing stubborn crocodiles, Life In The Pride Lands is always "hevi kabisa" – totally intense!
This new DVD, features five new episodes and is packed with laughs, music, beloved characters and heart, The Lion Guard: Life in the Pride Lands is a must-own for the entire family! Bring home this heroic adventure on Disney DVD January 10th!
Episodes:
The Rise of Makuu (featuring guest star Blair Underwood as the voice of Makuu)
The Kaputana Celebration
Bunga and the King
Never Roar Again
The Imaginary Okapi
Bonus:
Music Videos:
· A Trail to Hope
· Teke Ruka Teleza
"It's UnBungalievable!" Shorts
· Who's Quicker?
· Who's Hungrier?
· Who Has Better Hair?
· Who's Cuter?
· Who's Louder?
· Who's Mightier?
Get a sneak peak and meet one of the newest characters
Related Posts :